In case of agency closing due to inclement weather, The Breathing Association will post our closing on NBC4 news, and our voicemail message will indicate the office is closed for business.
Please feel free to contact us with questions or comments via the following: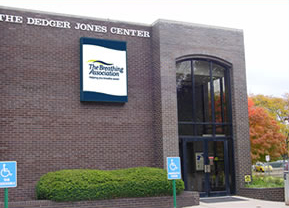 Mailing Address:
The Breathing Association
1520 Old Henderson Road
Columbus, Ohio 43220
Telephone: (614) 457-4570
Fax: (614) 457-3777
Email Address: info@breathingassociation.org
The Breathing Association is in northwest Columbus near Henderson Road and Route 315. From South 315, take the Henderson Road exit, turn west, go to the stop light at Kenny Road and turn left (south). At the next light, turn right (west) onto Old Henderson. The Breathing Association is on the right side at 1520 Old Henderson Road.
The main entrance is located at the east end of the building. Wheelchair access is available at this entrance. Please use the entrance at the west end for The Lung Health Clinic and HEAP.
In 1987, The Breathing Association completed the purchase of the building through a generous donation from Mr. Dedger Jones. The building is named the Dedger Jones Center in his honor.
Hours:
The Breathing Association:
Monday – Friday, 9 am – 5 pm
HEAP:
Monday, Tuesday, Thursday, Friday: 8:30 am – 5 pm
Wednesday: 8:30 am – 7 pm
Closed for lunch 12 pm – 1 pm
By appointment only except from 8:30 am – 10 am when walk-ins are accepted.
The Lung Health Clinic (on site and mobile unit):
Monday – Thursday, 8:00 am – 4 pm
Closed for lunch 12 pm – 1 pm
Click here for the Mobile Medical Unit schedule.
HEAP Outreach Locations:
Main Office:
1520 Old Henderson Road
Columbus, Ohio 43220
614-457-4570
East Location:
4850 E. Main St.
Columbus, OH 43213
614-566-0750
Off of S. Hamilton Rd.
Gladden Location:
183 Hawkes Avenue
Columbus, OH 43223
614-227-1600
Off of W. Broad St.